Vinyl Fence Contractor Little Rock AR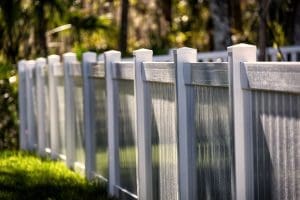 Vinyl Fence Builder North Little Rock, Jacksonville, Sherwood AR
A popular modern option to fence in lawns is vinyl fencing. Vinyl fences are attractive, not very expensive, and incredibly easy to clean. The bright colors stay crisp and clean easily hosed off to remain new looking for years to come. Through time your fence will endure weather, grass clippings, and animals. All of this can leave your fence dirty and looking worn in. With vinyl fencing you can keep your yard fenced in, but have the convenience of easy cleaning. Simply hose off your fence and it will be looking as bright and shiny as the day we installed it.
Hire us if you are looking for privacy, ease of cleaning, and durability. Vinyl fences last so long because they are not affected by weather and termites. If you are look for a good-looking fence without the wear and tear, price, and replacement vinyl fencing is the best option for you. We are the #1 fencing contractors because we have experience working with vinyl, wrought iron, and wood fencing.
Vinyl Fencing Contractor Sherwood, Maumelle AR
For the Jacksonville, Sherwood, and Cabot areas look into Little Rock Fence and Deck to help with your vinyl fencing needs. There are many reasons that we are the best in the state including fast, professional service,high quality materials, experienced contractors, and  low costs. We are reliable, time tested, and reasonable with our prices. Make sure to give our company a call to see what we can do for you. 
Call us today at: 501-290-4688
Composite & PVC Fences in Arkansas
Our fence and deck company has a team of experts who will work incredibly hard for you and your family to create the best outdoor space to spend quality time. We are a local business and therefore understand and appreciate how important having a peaceful and beautiful space to spend time. Having a beautiful fence and deck will create a wonderful backyard to enjoy year round. 
If you are looking for a similar look to our vinyl fencing but want the classic wooden fence check out our Picket Fencing. Whatever you choose know that we are the finest fence builders in the Central Arkansas region. Look through our services to check out the different types of fencing you may want to choose. Whether it be ranch style fencing, vinyl fence, aluminum, chain link, dog run, or pool fencing we can install for you. No matter the size of your project, whether it be commercial or residential Little Rock Fence and Deck has you covered.
Excellent Vinyl Fences
Little Rock Fence and Deck is so popular in our area because of the excellent work our teams provides. With us you do not have to worry about the quality of the work you will get or the professionalism of the contractors coming to your property. Hire us for all your fence and deck needs and rest easy.